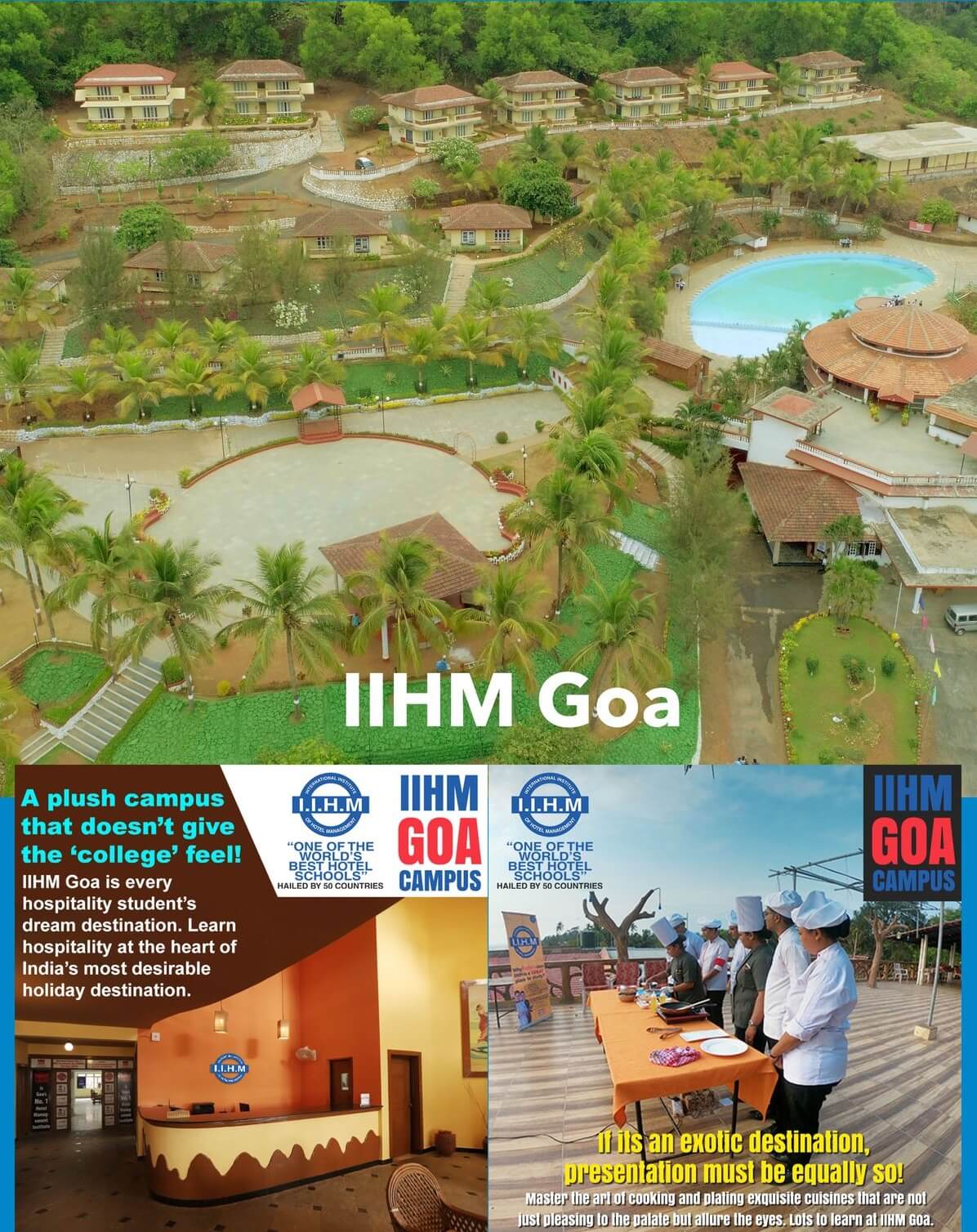 At IIHM Goa, students are offered a rewarding career in the flourishing hotel and tourism industry, in an environment which is ambitious yet friendly, busy yet relaxed, practical yet intellectually rigorous, active yet thoughtful, young in vision yet built on years of experience and above all, always very professional. This reputation is further strengthened by our association with University of West London (UWL), London.
EXCELLENT LOCATION
Nestled in India's favourite tourist destination – Goa, IIHM is situated alongside best starred resorts in South Goa. The campus boasts of a- state-of- the- art academic learning centre with swimming pool, library, games room, A.C. Conference hall, outdoor event hall, hostel, cafeteria, gym and other facilities. The students are provided with holistic hands -on training which facilitate practical thinking and help win the placements.
CURRICULUM
At IIHM Goa, we offer UGC approved curriculum with 100% placement opportunities. We are the only institute to offer a Dual Degree program in the state. We also offer 6 months International industrial training* and 1 year additional International internship opportunity*. Apart from 3 year degree courses, the campus offers short term certification programs in Hospitality Operations, Culinary Skills and Patisserie & Bar and Beverage Management for 10th pass students.
MESSAGE FROM DIRECTORS DESK – GOA
Dear Students,
It has been over 30 years now in the Hospitality Industry, working in Hotel Operations, Training and nurturing students to become future Hospitality professionals. I have always enjoyed teaching and mentoring students and helping them to grow and establish themselves in this competitive world.
IIHM Goa is the youngest of the campuses to be added to the Indismart Group with its sprawling campus along with fully commercial Training Resort. As Goa is a popular tourist place, it was the next obvious destination for Hospitality Institute of the capacity of IIHM to open its doors to the younger generation of Goa.
Here in Goa, the students can learn and hone up their skills further as Hospitality professionals since they are already aware of the hotel and tourism industry. The students from Goa stand a better chance to succeed in this industry as most of them are English speaking and the schools have a vocational course in Higher Secondary level in Hospitality, which initiates them naturally towards Hotel Management.
It was the vision of Dr. Suborno Bose, the founder and Chief Mentor of Indismart Group to bring Hospitality Education in India to International level. His mission is to create magic moments for everyone at every opportunity. IIHM was the product of his vision and the first step in mentoring the students in making them future ready. IIHM has been able to mark its presence in Delhi, Jaipur, Ahmedabad, Bangalore, Pune, Hyderabad and now in Goa with International campuses at Bangkok and Samarkand.
It is a challenge for all the teenagers to decide about their career and most of them remain confused about which stream they should take after class 10. The options of Medical, Engineering, IT, etc. all require a very high percentage of marks, which leaves the average students completely at a loss and frustrated. We in Hospitality invite the average students from any stream and give them a career where they can excel and shine. With the ever-increasing numbers of International Hotels coming to India, International Cruise liners and technology-driven Tourism, Hospitality Industry is booming, Hospitality is the Future!
ACTIVITIES
IIHM Goa has a magnificent attached training commercial resort to engage students in authentic experiences of professional service from day one. The Hotel schools highly talented and motivated students learn from industry experts in their chosen disciplines. Apart from classroom learning, we conduct several extracurricular activities which are essential to student's learning experience.